Author:
Markus Zusak

Publisher:
Knopf Books for Young Readers

Release Date:
March 14, 2006
Pages:
560 (Hardcover)

It's just a small story really, about among other things: a girl, some words, an accordionist, some fanatical Germans, a Jewish fist-fighter, and quite a lot of thievery...

Set during World War II in Germany, Markus Zusak's groundbreaking new novel is the story of Liesel Meminger, a foster girl living outside of Munich. Liesel scratches out a meager existence for herself by stealing when she encounters something she can't resist–books. With the help of her accordion-playing foster father, she learns to read and shares her stolen books with her neighbors during bombing raids as well as with the Jewish man hidden in her basement before he is marched to Dachau.



This is an unforgettable story about the ability of books to feed the soul.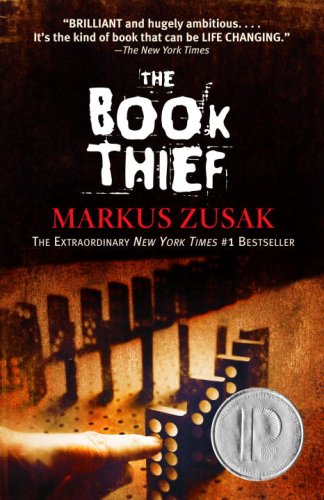 The Book Thief is just incredible. It was my dad who bought me the book. I took a long time to definitely decide to read it. I wasn't so interested. I have never liked books like this. But there were one day when I picked it up to read and couldn't put it down.

While the Death (yes, the death!) tells the girl's story, you get into this smoothly and without realize. Death's sometimes-sarcastic and unsentimental way of speaking makes you want more. It's just captivating, sad, fascinating, darkly beautiful.
Good job, Markus! That's why I'm reading another book you wrote.


Her brother died and her mother couldn't no longer take care of her. Liesel is now adopted, and what most grabed my attention was her strong relationship with her "new" father, Hans, while her "new" mother was almost an asshole, but deeply loved her as well. I have no words to describe such an amazing and well-written story. Sometimes it makes you laugh, sometimes it makes you cry, sometimes it makes you think.

And there is not only one favorite character.
There are lots: Liesel, Hans, Rudy, Max and The Death.

While reading I loved it when Liesel went down to the cellar to meet Max, her Jewish friend.
I must confess I wanted him to be together with Liesel, though he's so older than her. I'm weird.
I loved it when Hans told her a story and teached her to read.
God, he's the most beautiful man I have ever read about.
I loved it when she went to play with Rudy and didn't realize he was in love with her.
And when she called him of something in German I can't remember now how to spell it.
I hated it when it ended.

I recommend this book for every people in this whole world.
One of my favorite ever.